Electronics Disposal and Document Shredding Services in San Diego
The Eastlake Self Storage® is a full-service location for electronics disposal and document shredding services in Chula Vista, providing more options for a greener tomorrow in the community.
Paper Shredding and Document Destruction
We are committed to being a part of environmental conservation and therefore, are proud to offer drop-off shredding services to securely destroy confidential information. We highly recommend our secure document destruction to protect your sensitive information.
Our document shredding services in San Diego give you peace of mind. We offer secure drop-off and electronic shredding provided by DATA DISPOSAL, 7 days a week from 9:00 am-4:30 pm. Customers can pay $10 per file box after they fill out the form for services. Documents are shredded on site as part of our destruction service.
We make it easy for members of our community to reduce their carbon footprint! Unlike with some other shredding companies, with us, your documents do not need to be sorted by color, size, shape, or have staples removed.
Electronics Disposal in San Diego
In addition, we are also now an electronics drop-off center for safe, secure disposal of old TVs, computers, and other various items. Our electronic drop-off recycling services are provided by Envirogreen, and are available Monday through Friday from 9 a.m. to 4:30 p.m.
Most items are free to drop off; we do have a disposal fee of $5.00 for printers, copiers, and microwaves, and a $2.00 disposal fee for vacuums. Please note: for disposal of televisions, the state does require us to collect some personal information, including name, address, phone number, and style of the TV (flat-screen, CRT, etc).
Electronic Items We Accept with No Fee:
Answering machines
TVs (some additional information required for drop-off)
Cables
Camcorders
Cell phones
CD/DVD players
Computer equipment
Computers (Hard Drive Destruction Available)
Cords
Duplicators
Two-way radios
Testing equipment
DVDs
Electric typewriters
Electronic games
Fax machines
Hard drives
Household electronics
keyboards/mice
Lab equipment
Laptop batteries
Laptops
VHS equipment
Modems
Monitors
Networking equipment
Pagers
PDAs
Circuit boards
Telephones
Remote controls
Scanners
Stereos
Tape players
Zip drives
Telecom equipment
Mainframe
UPS power batteries
Word processors
Electronic Items We Accept for a $5.00 Disposal Fee:
Copiers
Printers
Microwave ovens
Other Items We Accept with Various Fees:
Vacuums have a $2.00 disposal fee
Fluorescent bulbs have a fee of $1.00 per foot
Confidential destruction of all hard drives: $10.00
We can also issue a certificate of destruction for items for a fee of $15.00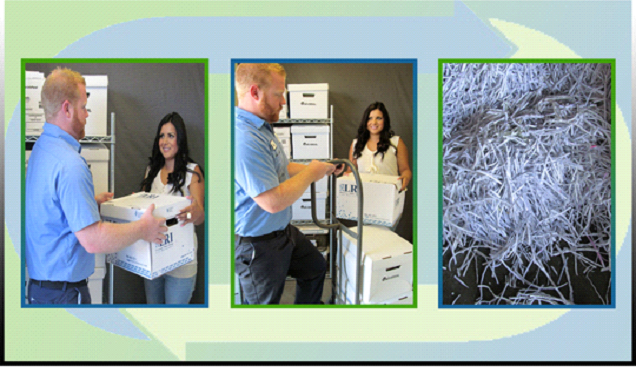 San Diego County Paper Shredding Service and Electronics Disposal
Please feel free to call our office at 619-421-4488 if you have any questions regarding our electronic recycling or document destruction services. From your car to the shredding bin, the entire process is a breeze. Our friendly and helpful staff is made up of professionals with job experience that makes the whole process of storing, disposing, and transporting all your stuff a breeze!